Parma Eldaliéva I
Link: Back to the Main GALLERY ~ * ~ Link: Parma Eldaliéva Special I Gallery ~ * ~ Link: Calligraphic Tengwar Scrolls Gallery
This page is dedicated to the first Parma Eldaliéva art book in its printable version. The 564-page volume was first released in 2016 - 2017 with the title "The Art of Elmenel: Tengwarin". It represents a Tengwar calligraphic art 'version' of "The Hobbit".

I am happy to announce a new print of this art book under the title "The Art of Elmenel: Parma Eldaliéva I"!

*******
April 1st, 2020

IMPORTANT UPDATE: Due to work process problems caused by the spread of the virus, the printing of the book has to be delayed. The printers and I would be able to proceed as soon as the situation in the countries involved in the printing process improves sufficiently.

I will continue to accept orders sent to to the e-mail address I gave further below, without collecting any payments yet, until the situation improves to the point where the printers and I would be able to schedule the new printing. I will accept orders after end-April too, on the April price, until the collecting of payments and printing time.

When I have clear new dates, I will communicate them via e-mail to all who have ordered the book, here on my site, and on Patreon. Only then I will proceed with collecting the payments, so that my order cost may be covered.

My thanks to those who have already ordered the book. My gratitude for all the kind words and appreciation!

I wish everyone good health, good spirit, courage, love and kindness!

*******
March 3rd, 2020
[NOTE: Some information in the following text has been updated; see above.] I will accept orders in the period March 5 - April 30, 2020. There are amazing benefits for those who order in March. Not only will they receive the special 'early order' price of € 85 + PP, but they will also receive a special canvas art print of one of the maps in the volume. For ordering in April the price will be € 100 + PP. The book will be printed in May and despatched May 30 - June 4. One copy weights approx. 2.5 kg. and the average international postage for it would be about € 30 (it would differ according to the destination). The payments for your orders will be collected only when there are 40 orders. If we do not reach this number of orders we will have to cancel the print.

How to order:

Send an e-mail with Subject: "ORDER vol.1, 2020" to elmenel.art@tsvete.com . In it please include:
- your name;
- the names of the art book recipient, if not you;
- the postal address to which the art book should be posted, including zip code (the despatch would be in the period May 29 - June 2, with an expected arrival by the end of June [Note: The postage time has changed. See the update above.])

Your payment will happen only when 40 orders have been made. I will contact you with payment details at the e-mail address you used for ordering. Please note that the only e-mail address I will be using for dealing with this is elmenel.art@tsvete.com .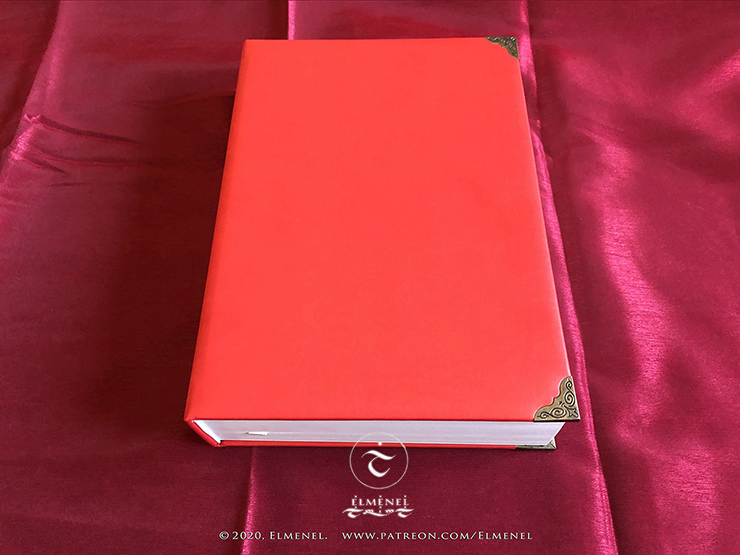 If they wish, my supporters will receive this book as a reward, according to the points they have received. For them it will be accompanied with two other gifts. There will also be a calligraphed personalisation in gold ink for those of them who have not obtained it in 2017.

One of the benefits of my art support campaign is that one does not need to pay a lump sum for any art book I print, even if I make it available out of the campaign. One can also access information and enjoy images that I share exclusively there. On some of the tiers there are additional rewards, including exclusive art prints. The campaign support is highly beneficial for my work - the regular contributions allow me to be much more efficient in any artistic activities and printing organisation.

I hope you will enjoy my art!

Elmenel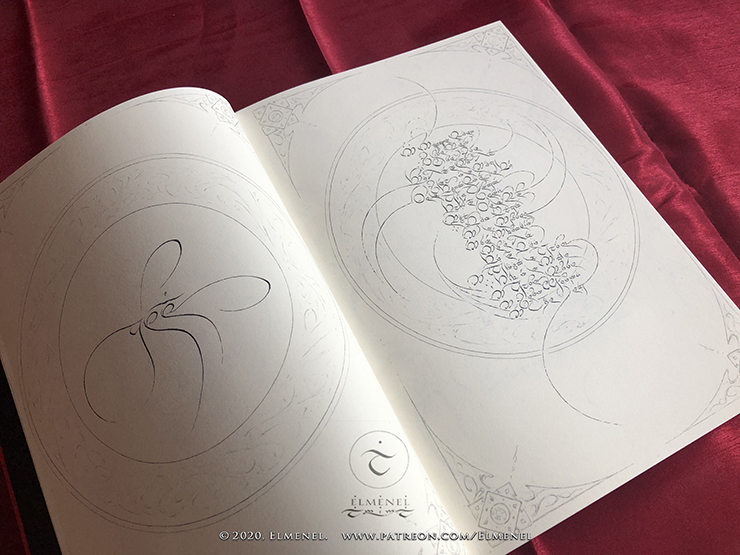 You can support my art there and become owners of printed copies of each Parma Eldaliéva book as well as art prints, including printed versions of my scrolls when I am able to print those: CAMPAIGN & Become a Patron!
Up to date information on my work progress on the upcoming core "Parma Eldaliéva" art books and more is also available for my supporters on Patreon. Any contributions there or on this site (the PayPal button below) are much appreciated.


My heartfelt thanks to all my supporters!