Donate
Now that I completed the first "Parma Eldaliéva" and five maps I will continue working on the creation of the next Parma Eldaliéva works including the next calligraphic art volumes. I will be doing it to the best of my abilities, in the time that has been given me, so that the next artworks would exist in this world and be as beautiful and wholesome as able for me to achieve. I ask you with everything I am for your SUPPORT for their creation!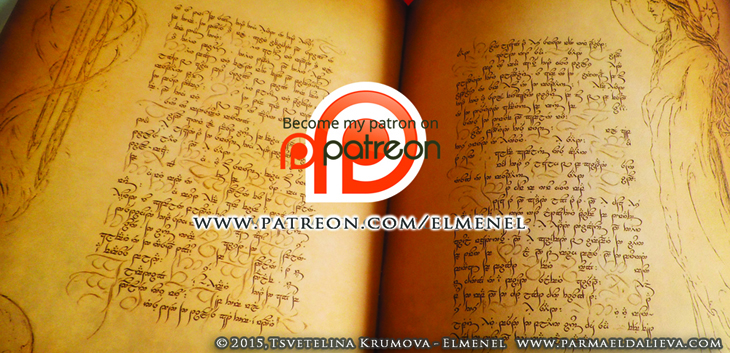 You can make the successful completion of wholesome and beautiful Parma Eldaliéva works possible! Donations via the Patreon campaign start from 1 USD per month, and those who join it are completely free to quit or rejoin at any time!

Your contributions matter greatly! You could support my art by joining the "Patreon" crowdfunding campaign or make a donation via the Paypal button here below (you don't need a PayPal account in order to do so). Please bear in mind that tangible gifts (for example my artwork prints) are given only in the "Patreon" campaign!
My deepest gratitude to all who contribute!
I will update the new "The Art of Elmenel Champions List" on the "Thank you" page of this site around the tenth of each month. I will be adding the names of those who during the previous month have started supporting my work on levels described on the "Patreon" profile page or have donated via PayPal, except if they wish to remain anonymous. In order to notify me about the latter donors on "Patreon" can send me a private message and via PayPal you could use the message field in the electronic donation form..

The work on Parma Eldaliéva is a full-time job as I want to do it with the quality it needs and to complete it while my hands are in their best working shape. I can say from years of experience that it would be impossible to take another job that would pay for me doing the work on Parma Eldaliéva and to simultaneously find the time to focus and create the art itself, in a single lifetime, to produce quality artwork, coherent and whole, in the amount and scope that is needed. In order to create I need equipment, paying rent for space to work and live in, materials, supplies, storage (physical and digital), site support, ensuring my continuous physical existence and health, and other things without which the work would be too slow despite all my skill and dedication, or limited and less than what I am fully capable to create and what I feel the works that inspired me deserve.

Please support my art and "Parma Eldaliéva"!

Elmenel