Scrolls
Link: Back to the Main GALLERY
Link: Parma Eldaliéva Special I Gallery
Link: Parma Eldaliéva I Gallery
Link: Parma Eldaliéva Special II Gallery
February 20th, 2020

This page is dedicated to my Tengwar calligraphic scrolls. I am starting it with images of "The Tuor Scroll" (2019) and "The Coming of Fingolfin Scroll" (first version, work). In time I will add images of more such works, as I continue to make new ones.

I hope you will enjoy my art!

Elmenel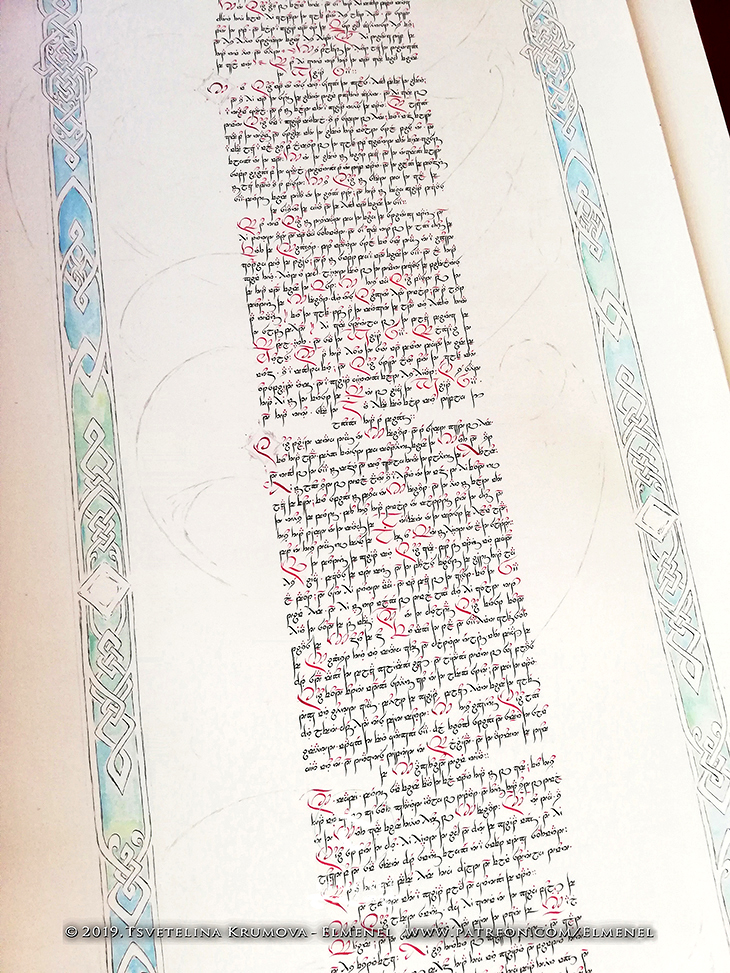 Dimensions of "The Tuor Scroll": approx. 200 cm x 43 cm. Ink and watercolour, 300 gsm art paper (100% cotton, acid free).

Dimensions of "The Coming of Fingolfin Scroll" (work version): approx. 230 cm x 46 cm. Ink, watercolour, pencil, 300 gsm art paper (100% cotton, acid free).






To purchase "The Tuor Scroll", original, 1550 euro:

The scroll will be sent to its buyer up to five work days after a successful payment. Free worldwide shipping in a plastic artist's tube.





All images have been initially posted, and accessible, with better resolution for my supporters at Patreon. My heartfelt gratitude to them!
You can support my art there and become owners of printed copies of each Parma Eldaliéva book as well as art prints, including printed versions of my scrolls when I am able to print those: CAMPAIGN & Become a Patron!
Up to date information on my work progress on the upcoming core "Parma Eldaliéva" art books and more is also available for my supporters on Patreon. Any contributions there or on this site (the PayPal button below) are much appreciated.


My heartfelt thanks to all my supporters!