Elmenel Art Calendar
Loa 1 Yén 15 of Our Lord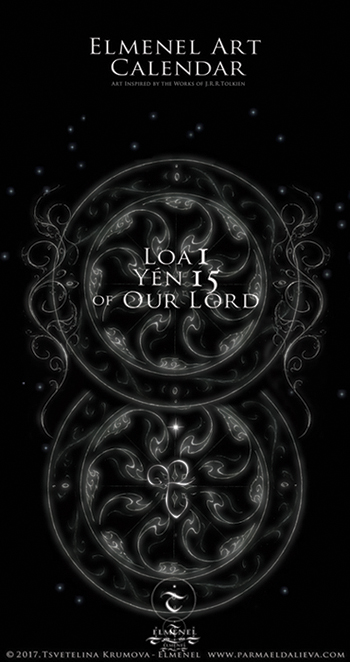 The calendar has 12 pages and every month displays one of my Tolkien-inspired artworks. It features month and weekday names in Tengwarin calligraphy. The space for each date includes the seasonal date or out-of-season day name, even as the months fit the modern reckoning. That space contains:

1) the modern month-date in Arabic numerals;
2) the modern month-date in Tengwarin numerals - decimal and calligraphed in red ink for this purpose;
3) the Elven seasonal date in Arabic numerals;
4) the name in Tengwarin calligraphy of the Elven season or of the out-of-season day name (black ink).
I have hand-drawn the originals of all other graphic art that is added to the calligraphy. Figuring out how to fit things I want in a single date space has been a special effort too.

The calendar is printed on 200g/m2 paper, spiral-bound, in two sizes (54 x 28 cm and 42 x 22.5 cm). I will start shipping the large and small size respectively on April 3rd and April 5th. It should take me two to five days (depending on me having copies left in stock or not when you place your order) to dispatch. It takes approximately one week to ten days for an order to arrive in European countries and about two weeks for an order, for example, to the USA.


For international orders (outside Bulgaria),
+ 10.45 euro for packing and shipping,
please use this button:


- * - * - * -

For orders in Bulgaria,
free shipping,
please use this button:
Enjoy!